This shop has been compensated by Collective Bias, Inc. and its advertiser. All opinions are mine alone. #HomegatingHeroes #CollectiveBias
These Pineapple Teriyaki Burgers are an all time favorite here at our house.  Whether it's a birthday party, a tailgate party, or a home gating party as we call it..these burgers are a hit at our house!   From the young to the old, we all love this meal.  I serve it with chips and it's a complete meal…nothing fancy, but it's sure to leave you wanting seconds!
Without fail, every single time we have made these burgers and had guests over they love them.  I sometimes get nervous thinking they may not like them…thinking they'll just be polite and eat them…but even the pickiest of friends we have fed these to love them!  This is what I call a WIN of a recipe!

Everyone asks us where we got this recipe.  I of course confess and tell them – Pinterest.  Right after we had our little Miss E, we decided that going out on date night for Friday nights was easier to stay home! Haha!  Yet, we wanted to do something that made the night fun and special, while doing something together.  Since we both love hamburgers and my husband loves to grill we decided to start trying unique burger recipes.  This was one of the first and it has certainly stuck around and made it's mark in our house!  From kids to adults everyone raves about them.  So I hope you won't snarl your nose and I hope you'll try them out!
If you are like me having company and parties is a ton of fun…the clean up before and after isn't always the fun part, but it doesn't have to be stressful either!  Having the right supplies helps the before and after clean up…besides if your food is yummy and the fellowship/party is fun, that's all most remember, right?!?!?!  
Dollar General will help you stock up on the hosting essentials you need to cut down on cleanup time and avoid a last minute run to the store!  Buy 3 participating items, Save $3 at Dollar General, valid 9/24/17-10/21/17.
You can see here I snagged Sparkle® Paper Towels, Glad® Food Storage & Glad® Trash bags.  Tap the picture to see more!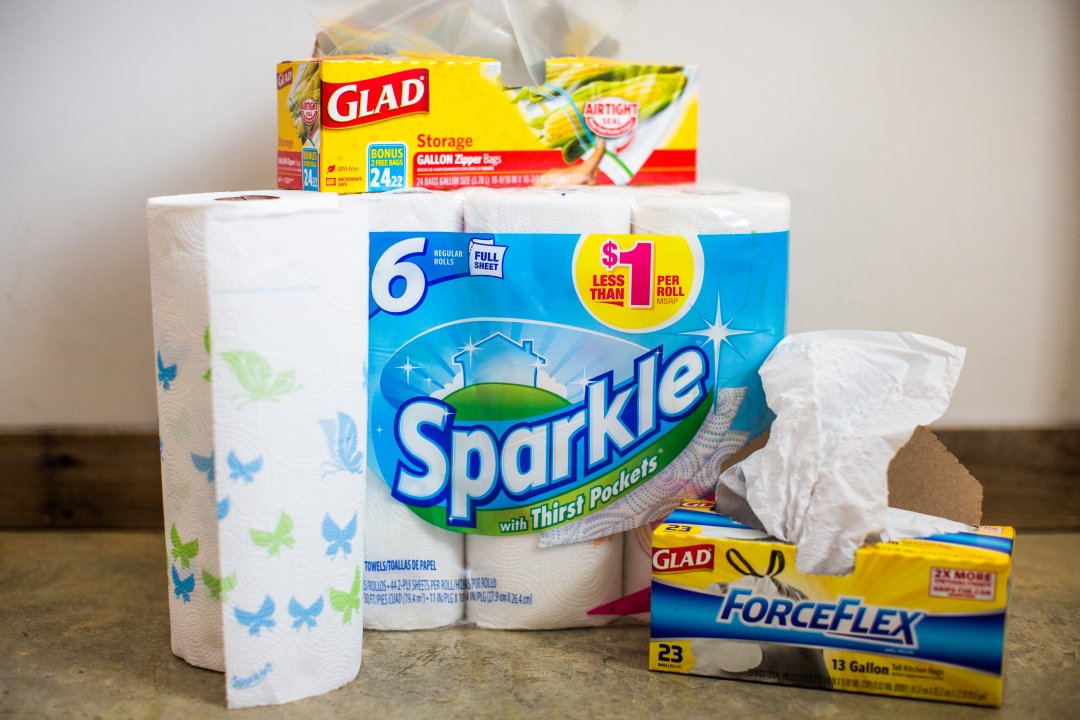 Pineapple Teriyaki Burger Recipe
Ingredients
2 lbs ground meat
1/4 c. teriyaki sauce
salt & pepper to taste
8 hamburger buns
1 can of sliced pineapple
1 small can crushed pineapple
2/3 cream of coconut
1/3 c. sour cream
1/3 c. mayonnaise
1 lb bacon
Instructions
Mix 1/4 cup of teriyaki sauce with ground meat.
Pat into hamburger patties.
Fry your bacon.
Butter your hamburger buns.
Grill your hamburger patties, grill sliced pineapple and place buns on grill at the end, to toast buns.
Mix together can of crushed pineapple (Drained), cream of coconut and sour cream. (this is the pina colada sauce)
Take 1/3 cup of pina colada sauce and mix with 1/3 c. of mayonnaise.
Once burgers are cooked to your liking place one patty on a bun, a piece of pineapple, two slices of bacon and drizzle your pina colada + mayo sauce - enough for your liking!
https://www.sixthbloom.com/pineapple-teriyaki-burger-recipe/
Hi I'm Erin a Southern mama from South Mississippi, owner and chief editor of Sixth Bloom a blog helping mom-tographers capture their kiddos and life, talking all things home, parenting and how we navigate through life. You will find me living life to the fullest with my mister (aka husband) and our little one year old, Miss Elle, in our 500+ sq foot cottage as we build our dream house on our two acres!  We are blessed beyond measure, love to travel, involved in ministry at our church and in between all of that I run three successful businesses!  Follow me at: WEBSITE | FACEBOOK | INSTAGRAM | PINTEREST