Wanting to raise a bookworm when your child hates to read?  You may wonder how to develop a child's interest in reading whether it's how to motivate a child to read or how to get your child to love reading.  Either way we hope that what we have done with How to Instill a Love of Reading in Your Toddler will help you.
This shop has been compensated by Collective Bias, Inc. and its advertiser. All opinions are mine alone. #MyLiteracyStory #DGMyStoryEntry #CollectiveBias
Do I think some have more of a passion for reading than others?  Yes I do.
Do I think as a parent you can cultivate and encourage a passion for reading?  Yes I do.
I think it's really great that Kellogg's and Dollar General are supporting a literacy initiative!
Kellogg's is a proud sponsor of the Dollar General Literacy Foundation. Every day, Kellogg employees work together to fulfill our vision of enriching and delighting the world through foods and brands that matter.  The Dollar General Literacy Foundation is celebrating over 20 years of helping individuals learn to read, prepare for their high school equivalency, or learn English.  Since its inception, the Foundation has awarded more than $140 million to nonprofit organizations and schools that have helped more than 9 million individuals advance their literacy and basic education skills.
You can learn more about the literacy initiative and enter the #DGMyStory Sweepstakes with the hashtag #DGMyStoryEntry where you can share your own personal literacy story for a chance to win a $50 Dollar General gift card.
Hover over the image below to start shopping for your very own Kellogg's Frosted Flakes® Cereal, Kellogg's® Froot Loops® Cereal, Kellogg's Frosted Bite-Size Mini-Wheats® Cereal (our family favorite! or the Kellogg's® Rice Krispies® Cereal!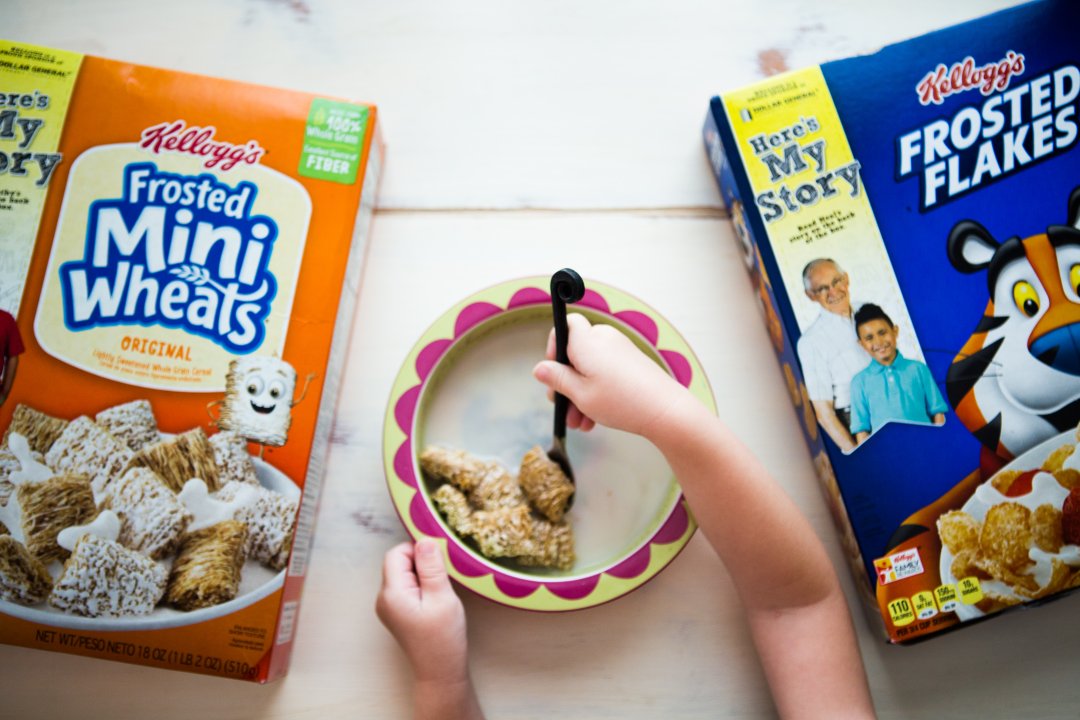 I snagged our family favorites at our local Dollar General on the end-cap or on the regular cereal aisle as well! 
How to Instill a Love of Reading in Your Toddler
Before I had children I knew I wanted to instill in them the love for good books and reading.  I always listen to moms talk about what they did to instill this love and often if a mom mentioned that their child loved to read I often asked how they cultivated that love?Many ask me if I love to read and my answer is this…only if it's a book that really interests me…then I can certainly read and love it.  Do I collect books…no!  Does my husband…yes!
Fast forward- I married a man that LOVES books.  That is not exaggerated and that is no joke…he loves books.  He buys books because they look like a good one and one day he'll read them…he has an on going list of books he wants to purchase and has boxes and boxes of books waiting to be placed in his library when we complete our home.
With that being said I knew we would be a team when it came to reading and cultivating a love for reading in our little one.  At the mere age of two I can confidently say that she loves books and she loves reading.  So all I can do is share with you what we've done over the past two years with her…and one might say well her dad loves it…yes but I still think what we did and are doing in our home has created a spark in her as well.

UPDATE – adding a readers comment because it's such a great tip!
READ to your kids in all different kind of voices to spark their imagination as you read!  BRILLIANT TIP!
Have books in your home as part of your life.  That seems simple and basic but you'd be surprised how many people don't make books a part of life.
Read to your child when they are itty bitty…they will love the colors for sure.
Start them super young, they will always enjoy the time in your lap.  This teaches them to sit
Place books in a basket or on a shelf that is easily accessible to them (even when they are merely crawling)
Buy new books often so that there is something new and exciting to read
Read their favorite book 100 times over again
Make it part of your daily routine.  Whether that's in the morning time or before bed or multiple times throughout the day.
Parents- YOU read, your children need to see you reading and picking up a book.  As lifehack.org says " Model reading. Let your child see you read often. It can be cookbooks, magazines, the newspaper, novels or non-fiction."
Have seasonal books that you bring out based on the holiday/season.  This makes it exciting and fun not only for the season/holiday but for new books to appear.
Let them take the lead at every stage/age.  I know even when they are itty bitty they just want to turn pages, let them and go with it.  If they want to switch books halfway through the story, let them.  If they want to read a book while you're reading, let them.
Last but not least VISIT THE LIBRARY often.
What are ways you incorporate reading and books into your children daily lives?
Hi I'm Erin a Southern mama from South Mississippi, owner and chief editor of Sixth Bloom a blog helping mom-tographers capture their kiddos and life, talking all things home, parenting and how we navigate through life. You will find me living life to the fullest with my mister (aka husband) and our little two year old, Miss E, in our 500+ sq foot cottage as we build our dream house on our two acres!  We are blessed beyond measure, love to travel, involved in ministry at our church and in between all of that we run two successful businesses! Follow me at: WEBSITE | FACEBOOK | INSTAGRAM | PINTEREST