This shop has been compensated by Collective Bias, Inc. and its advertiser, Mars Wrigley Confectionery US, LLC. All opinions are mine alone. #SpringMoments #CollectiveBias
If you are like me "the hunt is on" for some great new recipes to add to my collection as we gear up for spring and Easter.  No doubt we are coming up on a favorite season here at our house…where the flowers are budding, the grass is getting green and we are outside so much because our weather is gorgeous.
Maybe "the hunt is on" for you as you gear up for Easter gatherings and Easter egg hunts!  I hope you'll try these easy and delicious mini fruit pizza's for your gatherings.
Hover over the image below and you can start shopping for the items you need for the Mini Fruit Pizza recipe.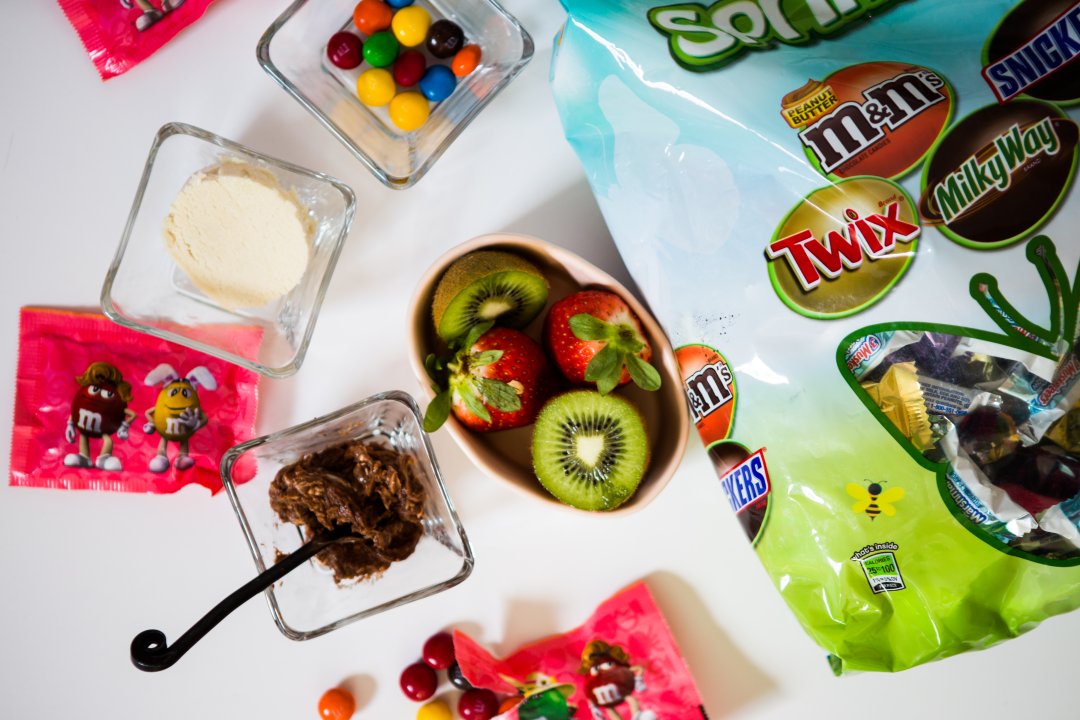 How to Make Mini Fruit Pizza's
Step 1 Slice your sugar cookie day in 1/2 inch slices – pat out a little to help spread them out and make the cookie a bit flat.
Step 2 Bake cookies & Let completely cool  
Step 3 While your cookies are baking prepare your chocolate/cream cheese layer
Step 4 Prepare and cut up any desired fruit you wish to include
Step 5 Choose what candy you'd like to incorporate into your fruit pizza for a fun twist and added taste.  I found Mars Chocolate Spring Mixed Minis at my local Sams Club and this bag is perfect because it's all of your favorites in one bag -giving you options!!  Plus what is left over from my recipe makes for great decorating and filling Easter Eggs easier!
Step 6 Spread a thin layer of cream cheese/chocolate onto each cookie, place fruit and Peanut Butter M&M'S® in a decorative pattern and Serve!
Ingredients for Mini Fruit Pizza's
2 Rolls of Pre-made Sugar Cookie Dough (unless you are ambitious and want to make it)
1- 8oz cream cheese, softened
1- cup of Nutella
Fruit of choice (I chose strawberries and kiwi because it's pretty and in season here!)
8 Packs of Peanut Butter M&M'S® in the Mars Chocolate Spring Mixed Minis Bag (from Sam's Club)
Directions
Slice Sugar Cookies in 1/2″ cookies.
Bake your sugar cookies according to your packaging.  I did flatten mine out a bit to make a bit larger of a "cookie"
Let completely cool.
With a hand mixer blend 8 oz cream cheese and 1 cup of Nutella
Prepare and cut fruit to your liking.  Keep your slices thin or if you chop your fruit keep it smaller/bite sized.
Spread a thin layer of the cream cheese/Nutella mix on top of each baked cookie.
Place your fruit onto each "pizza"
Place M&M'S® peanut butter candies in a decorative pattern on each cookie, when you are ready to serve.
Tips:
Feel free to use any of the candy in the Spring Mixed Minis bag as each variety is delicious, as we all know!
These are best served within an hour of making.
They can be placed in the fridge if need be.  If you are refrigerating these before serving refrain from placing the candies on until you are ready to serve!
Since "the hunt is on" what is on your list for the coming spring months?
Hi! I'm Erin, a Southern mama from South Mississippi, owner and chief editor of 
Sixth Bloom
 a blog helping mom-tographers capture their kiddos and life, talking all things home, parenting and how we navigate through life. You will find me living life to the fullest with my mister (aka husband) and our little two year old, Miss E, in our 500+ sq foot cottage as we build our dream house on our two acres!  We are blessed beyond measure, love to travel, involved in ministry at our church and in between all of that we run two successful businesses together!