Are you traveling and need to have one bag? Learn our Carry On Packing Hacks with our travel packing tips and tricks.  Don't over-pack!  
This shop has been compensated by Collective Bias, Inc. and its advertiser. Product was provided by the client for review; however, all opinions are mine alone. #WorldsSmartestToothbrush #CollectiveBias
We are always on the go and looking for new travel hacks to make traveling easier, smoother and cheaper!!!  So here we are today with the help of my husband to give you all the tips we have in our "back pocket".
At the same time it's the holiday season and if you are like me, the tech-savvy men in our lives can be tricky to buy for…so if you have a traveling man who is also tech-y this is the perfect gift…click on the picture below to shop for the best ever toothbrush!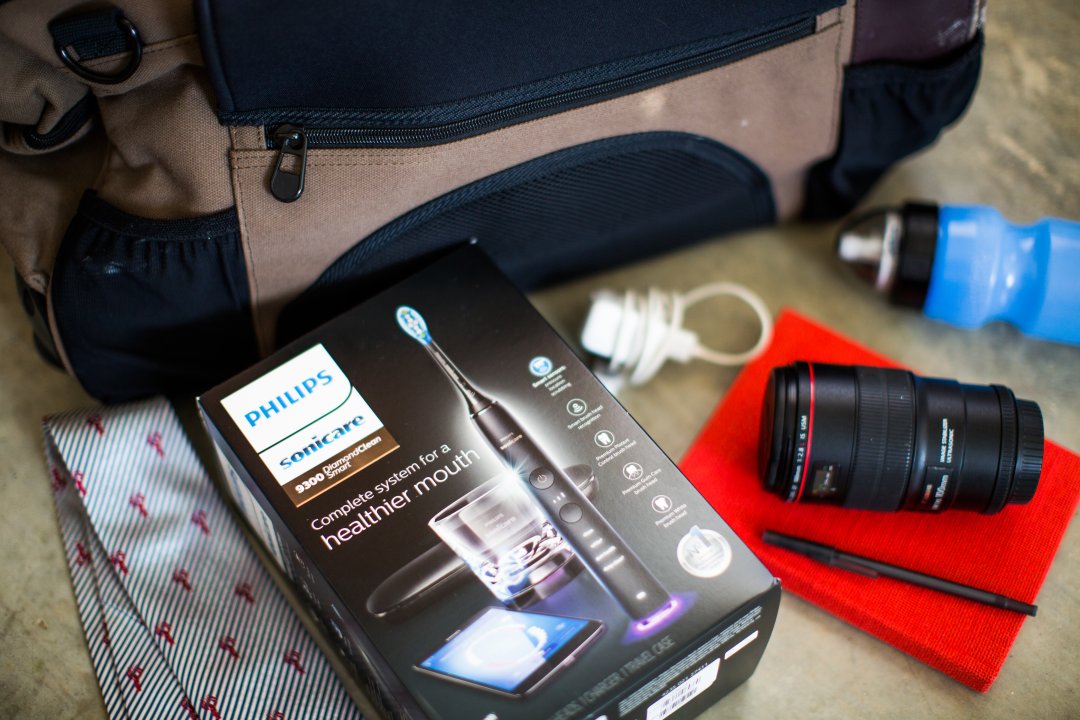 Whenever we travel, especially when we fly, we never pay for luggage/extras.  NEVER!  We are too frugal to even think about that…so we pack with great intention and deliberation…even with a baby…we just can't come to grips to pay extra!
So here we go….
1- Choose Your Travel Bag with Care. 
If you are flying and are only doing a carry on, check with your airline and find out what dimensions and weight they allow.  Make sure your bag fits these requirements so you aren't stuck at the gate checking it on, after all.
If you are driving well then your limitations are a little less, that is unless the space you are traveling in has limitations. 
2- Plan how many days of items you'll need. 
It seems simple but so many people don't plan, you'd be surprised!  So take a pen and paper and write down how many days you need to pack for.
If it's over five-ish days we usually plan on washing and starting over while on our trip!  
3- Pack According to your plan.
First and foremost don't forget your toiletry bag!  I speak from experience!
For the techy, male traveler this has been a must to include –> The new Philips Sonicare DiamondClean Smart Electric Toothbrush from Kohl's…
This is their best ever toothbrush for complete oral care. There's Always A Way To Make Life Better…with the Smart Sensor technology you can get personalized feedback and coaching through downloading the Sonicare app.  Not to mention it comes with a nice sleek case for travel and protection!  
This truly is a great gift for the tech savvy man in your life to complete his techy side of life…plus knowing it's the No 1 Dental Professional recommended brand gives a peace of mind it's the perfect gift.
Next set out your clothing according to each day.  We usually do this on our bed so we can see it all at one time.  Lay out your undies, layers, pjs, socks…any clothing articles.
Will you need different kinds of shoes for different activities?
A heavy coat or none at all?
Consider your adventures that lie ahead when it comes to packing! 
Carry On Packing Hacks
4- Cull your Outfits.
Our next step is to cull – meaning get rid of or leave behind rather.  If there are outfits that look similar or could be mix and matched, layered or are very similar we make a decision to leave something behind.  Sometimes a sweater can change up your whole look or even a scarf and you've got a brand new outfit for another day with only adding in one small item.
Take some time to condense.
5- How to Fold Your Clothes to fit more in your bag.
We generally choose to roll everything tightly. This by far has been our most successful way of packing the most in a small bag.  By rolling every piece you can get so much more in your bag, trust me.
When Is ay roll everything…I'm talking from undies and socks to pjs and shirts.  Roll EVERYTHING.  
Another way we have packed has been in the idea of a pillow- it tends to cause less wrinkles, but it's also not the best space saver, unless you have more of a square suitcase/bag.
Don't forget to stuff items in your shoes (within a plastic bag!) this is space many forget is "dead space" in their bag and could be utilized.
What are your favorite tips and tricks?  We need all the help we can get!
Hi I'm Erin a Southern mama from South Mississippi, owner and chief editor of Sixth Bloom a blog helping mom-tographers capture their kiddos and life, talking all things home, parenting and how we navigate through life. You will find me living life to the fullest with my mister (aka husband) and our little two year old, Miss E, in our 500+ sq foot cottage as we build our dream house on our two acres!  We are blessed beyond measure, love to travel, involved in ministry at our church and in between all of that we run two successful businesses together!  Follow me at: WEBSITE | FACEBOOK | INSTAGRAM | PINTEREST