Traveling with a Potty Trained Toddler is a challenge, right?  Can you take a potty on an airplane?  probably not but you'll find my potty training travel kit for car rides, airplanes or outings.  
This shop has been compensated by Collective Bias, Inc. and its advertiser. All opinions are mine alone. #nothinglikeahug #CollectiveBias
Traveling with a toddler is challenging in and of itself, right?
Let's compound that with a potty trained toddler, are you with me?
Tap on this image so you'll be stocked and ready to create your very own little DIY basket for your next trip!
Traveling with a Potty Trained Toddler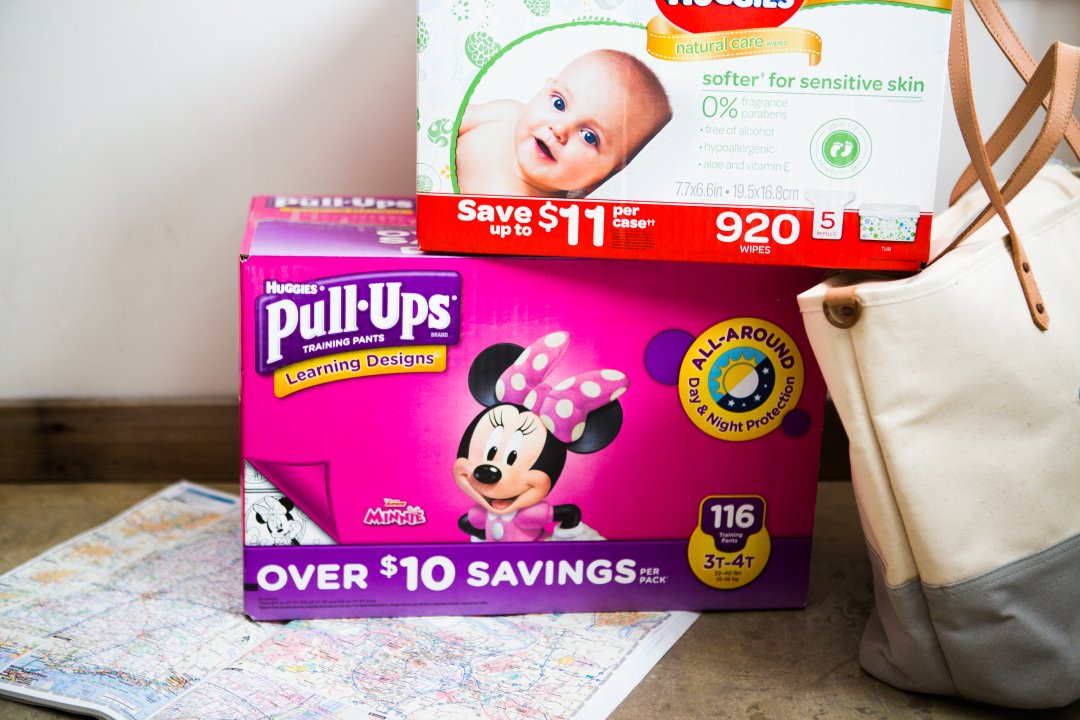 We didn't want this to hold us back from our road trips but we sure did have to be a bit more on top of our game when it came to road tripping with a two year old potty trained little one.
Never do they have to go potty at the right time…I mean really, we just passed the exit to get off and stop, or the next exit sign is clearly what looks to be 10 miles away…ok maybe I'm exaggerating just a teeny bit, but I think you get my point!
Create your very own DIY Road Trip Potty Kit- Have a designated spot in your car for this little kit.  We keep it at the foot of her seat down below so we know where everything is at, at all times!
Small Potty – keep this in the floor board next to their seat so it's easy to access when you pull over
Keep extra clothes and undies handy- keep extras handy, you don't want to have to unload the entire car to find a pair of undies or a change of clothes, that is not a recipe for a fun road trip.
Wipes– Keep these handy for wiping, accidents and clean up
Enjoy Instant savings on Huggies items at Sam's Club!  
Buy any 2 Huggies at Sam's Club and get $8 in Instant Savings Valid 10/25 – 11/22
Get an additional $4 savings through Ibotta when you buy Huggies at Sam's Club
More savings = more road trips, right?  Woohoo!
https://www.samsclub.com/sams/pagedetails/content.jsp?pageName=club-pickup&xid=hdr_services_club-pickup
Can I get an amen mama on another awesome reason to be a member at Sam's Club – lets' be real honest we don't have to haul everyone out of the car for these savings- it's called Sam's Club Pick up! 
Huggies Pull Ups- stick a Pull Up on them during nap time in the car so you can ensure no accidents and who knows they may just let you keep the Pull Up on them longer than normal and this will buy you some time knowing that if they have an accident they have a Pull Up on.
Water Proof Changing Pad- set this on their car seat under their bum, if they have an accident it prevents it from getting all over their car seat (if placed right in the seat)…now all you have to change and clean are their clothes and undies – not an entire car seat cover – that's brutal!
Here are our tips, in hopes your travels with a potty trained toddler will go a bit smoother than our first road trip did!
Don't Stress- if they have an accident it's not the end of the world it will wash and it will dry.  Our little one usually does a lot better than I ever expect!  Our last road trip we didn't have ONE accident, not even one!
Be Prepared- As mentioned above you'll see what we include in our DIY Travel Potty Trained Kit, just don't leave the house with these items so you'll be prepared.
Ration their drinking time- In other words monitor it.  Set a timer and be on the radar within an hour after they drink they'll need to go potty.  Consider giving them their drink before you know you'll be stopping for a break and don't leave their cups in reach to where they just drink all day long.  It sounds weird but you have to keep them hydrated but don't let them just drink constantly!

Hi I'm Erin a Southern mama from South Mississippi, owner and chief editor of Sixth Bloom a blog helping mom-tographers capture their kiddos and life, talking all things home, parenting and how we navigate through life. You will find me living life to the fullest with my mister (aka husband) and our little two year old, Miss E, in our 500+ sq foot cottage as we build our dream house on our two acres!  We are blessed beyond measure, love to travel, involved in ministry at our church and in between all of that we run two successful businesses together!  Follow me at: WEBSITE | FACEBOOK | INSTAGRAM | PINTEREST